DRESSEUSE's shop-on-line sm website
buys and distributes in France SM DVD from Mistresses
and SM DVD from submissive women
You are a Mistress or a submissive woman ? You are producing your own SM DVDs ? ZAZA company, owner of Dresseuse's shop-on-line sm website, can buy and distribute your DVDs in France. Since more than 10 years, ZAZA company is the best bdsm mail order company in France with thousands and thousands of real sm customers. If ZAZA company agrees to sell your DVDs, DRESSEUSE's website will do a special internet page at your name (no charge, it's free !) so that you have a fantastic window on the french fetish market.
You are a Mistress or a Submissive woman ? Zaza company can buy and sell your sm DVDs in France !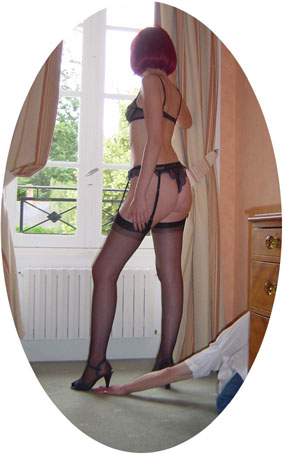 photo copyright ZAZA - no reproduction allowed
You want to know more ? You'll find below all the answers to your main questions !

How do you pay me ?
We buy your DVDs ! You send us an invoice and you are payed immediatly with an international bank transfer. When we have sold all you DVDs, we buy you again more DVDs and we pay you immediatly. Easy and simple. You do not have to care if your DVDs are selling well, we take all the risks on our side.

How do you sell my DVDs ?
If you have many interesting DVDs, we'll do a special page at your name (Mistress name or submissive name) on Dresseuse.com and on our other sm websites. Your DVDs will also be sold in our paper catalogs that are sent to thousands of real SM customers. And, sometimes, we choose a special Mistress or a special submissive woman and we do a review of her job in our fetish magazine Dresseuse (sold in french newstands, european newstands and canadian newstands).

Do I have something special to do ?
You have nothing to do ! You just have to send us your DVDs, we pay you by bank transfer... and that's all on your side ! ZAZA company will do your own webpage to sell your DVDs on our websites. If you wish, you can put a link from your website to your page on our website. ZAZA fetish mail order is well known for its qualities in France : we deliver in 48 hours ! Please, read this : ZAZA company decides what is shown on the webpage with your name. If you wish to look at webpages of famous Mistresses that have chosen to be distributed in France by ZAZA company, just click on the following links : Maîtresse Silvia, Madame Christine, Baronessa di Rivera, Maîtresse Nina, Madame Sarka.

Why will I choose ZAZA company to sell my DVDs ?
The most famous european sm Mistresses have chosen ZAZA company to distribute their DVDs because ZAZA company is the true specialist of Mistresses' DVDs and submissives women's DVDs : the websites owned by ZAZA company like Dresseuse.com have millions of visitors, the paper catalogs of ZAZA company are sent to thousands of real fetish customers, the mail order from ZAZA is well known for its speed, and ZAZA company will pay you before selling your DVDs !

Am I sure that you will buy my DVDs ?
No, absolutly not. We cannot guarantee you that we will choose to sell your DVDs. Your DVDs must be interesting for our customers and they must have a nice price. If your DVDs are interesting and they are not too expensive, then ZAZA company will sell your SM DVDs in France.

How do I contact you ?
It's very easy. You can send us a letter at :
Editions ZAZA, B.P. 63206, 44032 Nantes Cedex 1, France
You can also send us a fax :
Fax **-33-2-40-93-30-30
Or you can call us on the phone from monday to friday from 9am to 5pm :
Tél. **-33-6-88-195-6-4-2
And of course, you can send us an e-mail immediatly.
Your gate to french BDSM market is here. ZAZA company will be proud to sell your SM DVDs in France !

Toutes les autres rubriques de la boutique sm de Dresseuse